Seminar
Biomedical Sensors for Next Generation Healthcare Paradigm
Syed Kamrul Islam, University of Missouri
11:30 a.m., November 2, 2022 | 228 DeBartolo Hall
There has been an exponential rise in the level of interest in using miniaturized and portable smart electronic sensors for biomedical applications in recent years. Advancements in micro- and nano-fabrication processes and wireless sensor network technologies have facilitated development of new and innovative applications of point-of-care (POC) health monitoring systems.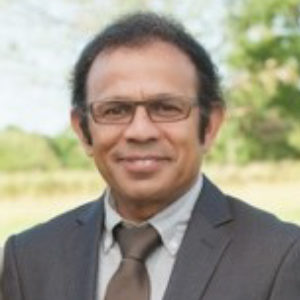 Biomedical sensors can be primarily categorized as wearable or implantable. Implantable sensors acquire information on the vital physiological phenomena such as glucose, lactate, pH, oxygen, etc., whereas wearable sensors detect and quantify vital information such as pulse rate, blood oxygen level, breathing data, etc. by either optical or transdermal means. Since traditional chemical batteries are not recommended to be used in implantable sensors due to the risk of being exposed to the blood, which could result in serious health issues; the powering of the electronic circuits has become a crucial design constraint.
Another solution for designing low-power and high-performance integrated circuits for readout electronics involves implementation of machine learning/deep learning algorithms into CMOS integrated circuits to process any type of physiological signals, such respiratory, ECG or EEG signals, blood glucose, pH, lactate, oxygen saturation level, etc. This has the potential to become a versatile signal processing hardware platform for biomedical instrumentation. Integrating machine learning functions and algorithms into a single CMOS integrated circuit and implementing it in a deep sub-micron CMOS process targeting very low power consumption is a potential new approach to the development of future wearable medical devices and technologies.
Syed Kamrul Islam received B.S. degree in Electrical and Electronic Engineering from Bangladesh University of Engineering and Technology (BUET), Dhaka, and M.S. and Ph.D. degrees in Electrical and Systems Engineering from the University of Connecticut, Storrs. He is currently serving as Professor and Chair of the Department of Electrical Engineering and Computer Science at the University of Missouri. His research interests include semiconductor devices, nanotechnology, bio-microelectronics and monolithic sensors. He has more than 90 publications in refereed journals, more than 150 papers in conference proceedings, and a number of invited talks. He also co-authored a book and 12 book chapters.
Prior to joining the Department of Electrical Engineering and Computer Science at the University of Missouri in July 2018, he served as James W. McConnell Professor and Associate Head of the Department of Electrical Engineering and Computer Science at the University of Tennessee. In recognition of his teaching, research and related efforts at the University of Tennessee he received John W. Fisher Professorship, Eta Kappa Nu Outstanding Teacher Award, Moses E. and Mayme Brooks Distinguished Professor Award, College of Engineering Research Fellow Award, The Gonzalez Family Award for Excellence in Teaching, Tickle College of Engineering Teaching Fellow, University of Tennessee Citation for Research and Creative Achievement, Electrical and Computer Engineering Faculty of the year award and the Alexander Prize.